Circulation et stationnement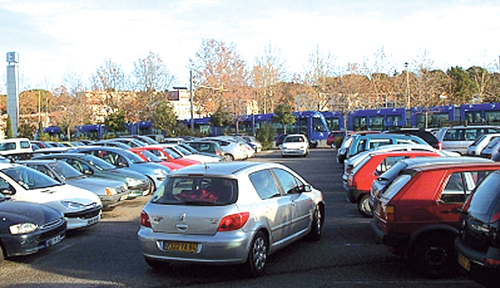 Entrances to the various CHU sites and parking are regulated.
Access to all CHU establishments is strictly limited and vehicles parked on the access roads reserved for external emergency vehicles can be removed.
All hospitals are served by the tram. If you can, prefer public transport.
Tram car parks
By parking your car in a tram car park ("P + tram" on lines 1 and 2, except Odysseum), you benefit from a flat rate including your parking space and a return trip during the day by tram or bus to each occupant of the car. If you have a TaM subscription, parking is free.
Lapeyronie hospital parking lot

A study to resolve parking problems within it revealed that one third of the Lapeyronie car park was most often occupied by vehicles of people going to the campus opposite and by vehicles belonging to people using the tram .
To reserve parking for hospital patients and their visitors, the CHU decided to make it chargeable in 2008.
The first hour is free and the rate for the following hours remains low so as not to penalize patients and their families, while being sufficiently dissuasive to encourage people not coming to the hospital to use the other car parks.